MASTERCLASS

MEET THE WOMEN OF WINE
Prezentat de Aurelia Vișinescu, Lorena Deaconu și Veronica Gheorghiu
Sâmbătă - 12 mai - 16:30 - în limba română 
Preț bilet: 100 lei/persoană - locurile sunt limitate (biletul nu include accesul în salonul de vinuri)

La cea de-a treia ediție a evenimentului ReVino Bucharest Wine Fair 2018, am ales să celebrăm femeile din domeniu. Așa că am invitat trei doamne talentate în ceea ce fac să spargă barierele de gen și să împărtășească cu dumneavoastră povestea lor cu vinul. Într-un dialog care vă va inspira, Aurelia Vișinescu (partener și oenolog Domeniile Săhăteni), Lorena Deaconu (degustător autorizat şi oenolog senior Halewood Wine & Spirits România), Veronica Gheoghiu (oenolog Crama Oprișor) vă vor introduce în lumea lor.
Aurelia Vișinescu
Aurelia este unul dintre cei mai cunoscuți enologi din România, cu o experiență de peste 20 de ani în domeniu și a cărei poveste începe simplu, cu dragostea pentru natură. Vinurile produse sub semnătura Aureliei Vișinescu reflectă caracterul de soi și influența puternică a terroirului. Când vine vorba de succesul unei femei într-un domeniu dominat de bărbați, Aurelia spune că: "într-o lume dominată de profesionalism, nu există femei sau bărbați, ci doar specialiști!"
Lorena Deaconu
Lorena este degustător autorizat şi enolog senior la Halewood Wine & Spirits România, unde lucrează din 2007. Încă de la începutul carierei sale, a lucrat alături de profesioniști din domeniu, mai întâi în România, apoi în Franța, California, Australia și Chile. Este membră ADAR, unde jurizează constant competiții interne și internaționale. Vinurile care îi poartă semnătura sunt câștigătoare la concursurile naționale și internaționale de renume. Crezul Lorenei referitor la vinurile create este: "Un vin de calitate este acela care bucură deopotrivă și văzul, și mirosul, nu doar gustul. Este vinul care rămâne în memoria consumatorului. Pentru mine si companie, calitatea vine mereu pe primul loc, întreaga activitate bazându-se pe acest principiu."
Veronica Gheorghiu
Veronica, enolog la Crama Oprișor, este recunoscută drept un talent în domeniu. Spune că a intrat în viticultură pentru că și-a dorit să fenteze rutina și că o femeie se potrivește foarte bine în postura de enolog, chiar dacă uneori nu este înțeleasă. Îi place să lucreze cu soiuri precum Fetească neagră și Tămâioasă Românească, iar vinurile cu care se mândrește sunt cele roșii, puternice cu mult corp și echilibrate.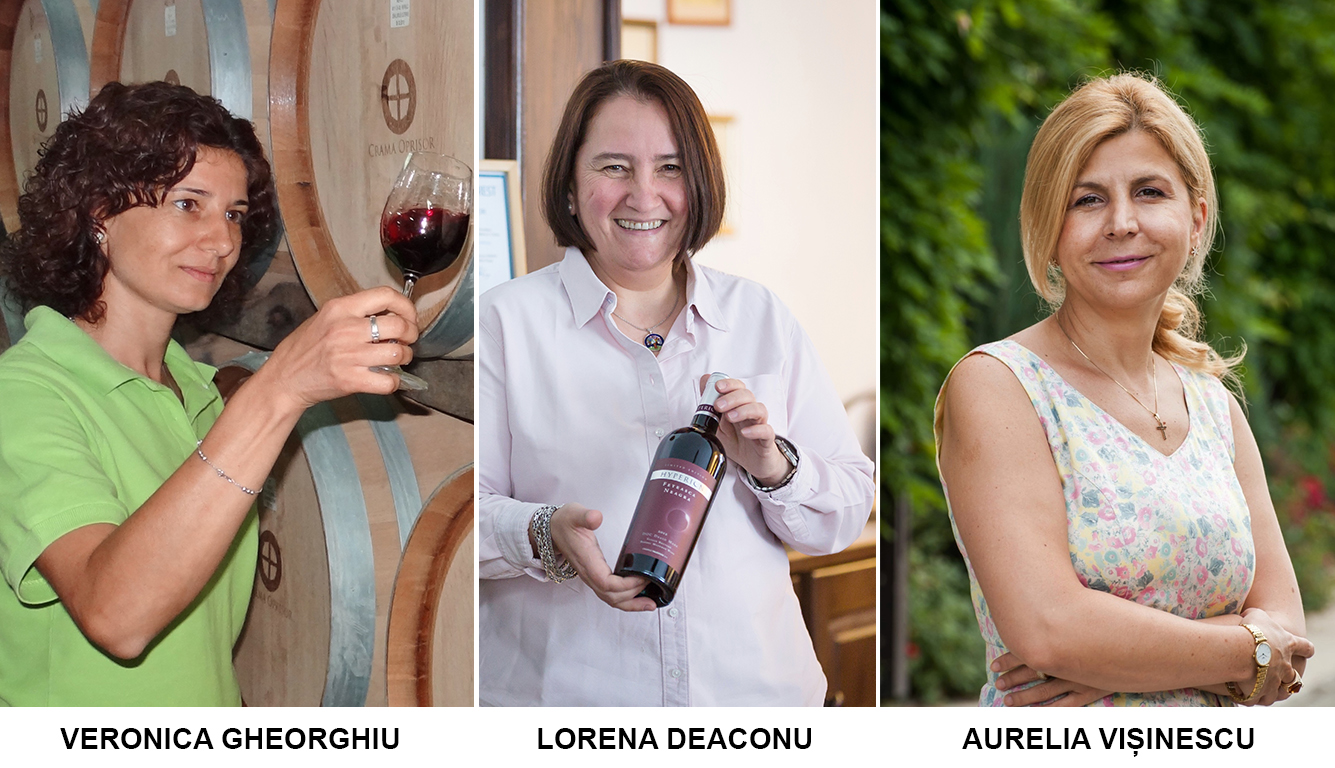 MEET THE WOMEN OF WINE - PRESENTED IN ROMANIAN
For the third annual ReVino Bucharest Wine Fair 2018, we have chosen to celebrate women in wine. We have invited three talented ladies to break down gender barriers and share their wine stories with you. During what promises to be a very insightful and stimulating conversation, Aurelia Vișinescu (co-owner and winemaker at Domeniile Săhăteni), Lorena Deaconu (authorized taster and senior winemaker at Halewood Wine & Spirits România) and Veronica Gheoghiu (winemaker at Oprișor Winery) will introduce you to their universe.
Aurelia Visinescu
Aurelia is one of Romania's most famous winemakers, with over 20 years of experience in the field, and her story begins with a love of nature. Wines produced under the Aurelia Visinescu brand reveal the individual character of each variety and the strong influence of the terroir. When it comes to her success in a male-dominated field, Aurelia says: "In a world where professionalism is paramount, there are no women or men – only experts!"
Lorena Deaconu
Lorena is an authorized taster and senior winemaker at Halewood Wine & Spirits România, which she joined 2007. From early in her career, she has worked with professionals in the field, first in Romania, then in France, California, Australia and Chile. She is a member of ADAR, where she has frequently judged wines in local and international competitions. The wines she has made have won at leading national and international competitions. Lorena's conviction about the wines she creates is: "A quality wine is one that satisfies the visual and olfactory senses, not only the taste. It is the wine that remains in the consumer's memory. For me and the company, quality always comes first; therefore all our activity is based on this principle."


Veronica Gheorghiu
Veronica, a winemaker at Oprisor Winery, is recognized as a true talent in the world of wine. She says she went into viticulture because she wanted an escape from the routine, and believes that winemaking suits a woman very well, even if sometimes people misunderstand her ideas. She likes to work with grape varieties such as Feteasca Neagra and Tamaioasa Romaneasca, and is proud of her full-bodied and balanced red wines.